11 OCTOBER 2017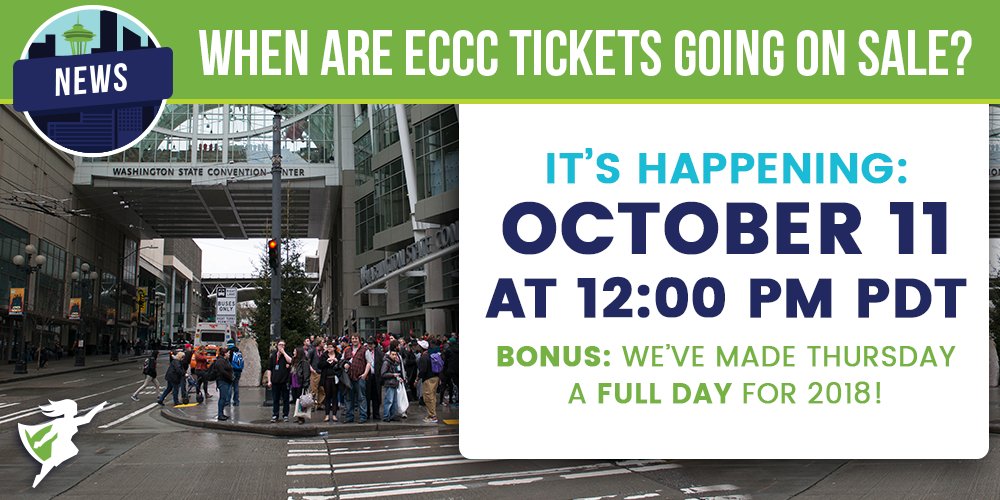 1:00 pm
There's no queue right now and Saturday is still available, as are all single day tickets. I wouldn't wait if I were you, if you want to get the full Emerald City Comicon experience.
12:22
Queue times are definitely longer now. Don't give up, though - if you want all 4 single day badges, you need to stay in the queue.
So far I've heard from a San Diego Comic-Con attendee who couldn't believe how easy this was and a local ECCC attendee who bitched about how difficult it's become. Perspective is everything.
12:17
All 4-day passes are sold out. I believe single days are still available but I think Saturday will go very fast.
12:09
I was just about to finish my Sheraton reservation when my tickets went live. All told, it took 8 minutes to get my 4-day badges and room. How's everyone else doing?
12:00 pm
Yep, we're in a queue.
11:49 am
Hotels still aren't live yet. I'd recommend having that page open on a separate device/browser while your queue time advances. That way you can take care of it immediately if tickets and hotels both go live simultaneously.
10:53 am
For the sake of simplicity:
You'll go here for tickets.
You'll go here for your hotel.
8:13 am
After dreaming about
Emerald City Comicon
for months, the chance to
grab a badge
is finally here. I'll live blog the sale, but here's what you need to know now:
Be ready with your credit cards - you will pay for your badges now.
Reserve some time for this. We used to be able to whizz in and out of the ECCC sale in 90 seconds. More recently we've all had to wait in queues.
Full tickets will sell out fast. You'll need to get right in the queue when the sale goes live - this isn't a sleepy small city Con where badges stay available for months.
Once the 4-day badges go, you can still get all 4 days separately. Last year Saturday took a week to sell out. I expect they will go much faster this year.
Hotels will go live around the same time. Start checking them before the sale goes live in case they're available - in some past years we've been able to take care of that quickly before the sale. If not, you'll be able to do so after you get your ticket.
Don't panic. This isn't a heart-knocking game of chance like a San Diego Comic-Con sale. Odds are you'll get exactly what you want if you're ready.
Talk to you soon.