___________________________
SAN DIEGO COMIC-CON 2016
20-24 July
News & Updates
___________________________
What You Can Do Now
Enter a contest. These aren't what they used to be but a few are still in play. Here's one from Dark Horse and another from Collider.
Sign up for a Member ID. To participate in Open Registration for 2017, you'll need to
sign up for a Member ID
. CCI (Comic-Con International) will send you an email in late winter-early spring with the date of the badge sale and directions on how to participate.
Watch for Nerd H
Q, Conan O'Brie
n and Syfy Presents tickets. These will go in a nanosecond when they're available so don't rely on finding out through the digital gra

pevine; it'll be too late.
Coming Up
Portfolio Review.
Comic C
reator Connection.
Various event and autograph sign-ups.
.
General News
What do we know so far? Not much, but what we know is good.
Conan O'Brien
will be hosting from Spreckels Theatre every night of the Con.
And if you can't score tickets to that, Syfy's nightly live telecasts will probably be just as

coveted.
The Killing Joke will ignite Friday night, probably in Ballroom 20 where it was announced last year. Hall H would be rad, though. And if you're saying, What is all the fuss about this cartoon? - You still have time to read the graphic novel so you can join in all the contentious debates that will be swirling around

while everyone waits.
2016 is Star Trek's 50th anniversary. SDCC is planning a

MAC makeup launch (or rather MAC has timed this appropriately) with a special Thursday night launch party; of course, most of you would probably rather attend the red-carpet premiere on Wednesday. No word on the "
Star Trek: The Ultimate Voyage
" concert or the Leonard Nimoy documentary yet. But all in all, you c

an count on a very Trekkie Comic-Con.
And you can probably count on a very Suicide Squad Con too. While I would never criticize the rampant Harley Quinns that swarm every Con in exist

ence

, I will gently suggest that you dress up as someone else if you want to be original this summer. Update: It got a PG-13 rating. Studio says

"We were always aiming for that anyhow." Okay.
Here's a look at a

subaqueous Comic-Con in 2016

. Although based on them calling it the 91st anniversary, I think they meant 2061

.
Mattel showed off their exclusives. Everyone's been flipping over Wonder Woman but I like She Ra. And
I will confess to being partial to these Diamond items, especially the Lumberjanes / Gotham Academy crossover and scowling Funko Swamp Thing.
Also on my list: this tiny Jabba who looks more like the runt of the Hut litter. That's from Hallmark, as is this cool USS Enterprise.
Ready Player One is coming to the silver screen in 2018. Will we hear anything about it this summer? Maybe, with casting underway? Here's a clip of Ernest Cline discussing the book

at

SDCC 2011, which underscores th

at fans really have been waiting forever.
Your favorite Twin Peaks waitress Madchen Amick is going to be in both the new Twin Peaks AND American Horror Story: Hotel. I'd say this make the odds of a Comic-Con appearance pretty good.
I'm not sure which ancient god-demon Archie Comics executives sold their souls to, but they now have an Archie Broadway musical coming out in addition to the endless crossovers, candy bars, etc. But it's their TV show Riverdale that we've been hearing about ad nauseum. Given how desperate they are for this to be edgy - Archie has an affair with Ms.

Grundy, for God's sake

- and their general thirst for buzz, let's assume we'll get a peek at SDCC.
On a related note, the much-anticipated Betty and Veronica #1 launches at Con time, with 25 variant covers. Yes, you read that right. 2

5.
If you didn't read Twilight Children, you may want to as a nod to the late Darwyn Cooke, who created some of the most beautiful comic work in existence. But of course his co-creator Gilbert Hernandez is just as major a talent, and Fantagraphics is coming out with his Garden of Flesh in July - his "sexually explicit retelling" of Bible stories like Adam and Eve and Noah's Ark.

The Hernandez Brothers are always around Comic-Con so pick this up and have him sign it.
Is Archer really dead in that pool or is it another cyborg? Maybe we'll find out at the confirmed SDCC panel. And maybe we'll get a Sunset Boulevard

-themed,

floating-Archer pool toy exclusive, which I would cheerfully

shank someone for.
If you like keyring exclusives, these Deadpool and Disney Princess ones are pretty cute. As always, remember that SDCC is a great place to do early holiday shopping; these would make

perfect

stocking stuffers

for the right person.
And Thundercats fans would probably like this plush Snar

f.
Normally I try not to judge people's passions but is there still an audience clamoring for Sharknado 4? Apparently. Will it be a big part of Syfy's on-site Comic-Con extravaganza? No doubt. Wynonna Earp's cast will also be on the premises, and I could definitely see them being featured on the live show a

s well.
I know we were all hoping for news of Guillermo Del Toro's adaptation of Scary Stories to Tell in the Dark - however, there's been no recent news and on 6 June he announced that Pacific Rim 2 starts shooting

soon.
It's safe to assume iZombie, Vikings, The Walking Dead, Fear the Walking Dead, The 100 and Con Man will all be at the show, based on random

cast tweets.
But will Passengers be there? It's coming out around Christmas, it stars Jennifer Lawrence and Chris Pratt, it's got a cool space travel/hypersleep premise

, and everyone at CinemaCon loved it.

So hopefully.
Entertainment Earth has come out with a few items, including a Penny Dreadful spell book (which I feel is a bit pricey at 60 dollars), various Sheldon figures (yawn)

and a Captain American chair cape. I dunno, I f

eel

they could hav

e made more of an effort.
Kidrobot unveiled their exclusives.
We know

now this will be the last SDCC before the end of Orphan Black - so if you're still thinking up cosplay ideas,

Rachel with the pencil in her eye would be amazing.
Will Arnett is hosting Syfy Presents. Part of this shindig will feature an outdoor stage.
Wonder Woman's invisible plane will be at the Con and will light up at night, which sounds like a g

reat photo op.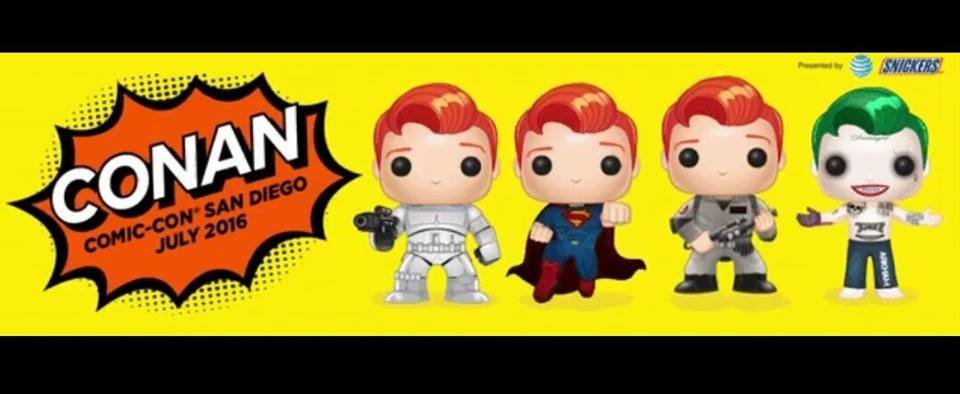 Conan's Pop! figures are here.
And so is one of the best exclusives of the year: a Jokerized Batman, from Entertainment Ear

th.
CCI and Cox Communications are providing
free WiFi for downtown during Con
. I know you'll miss the bizarre KFC Colonel Sanders statues from last year.